It seems to be a common practice in 'web world' to summarise the year just passed, mention photographic high points and illustrate these with some favourite pictures, so I thought, why not!
Since throwing myself into photography in a more serious way about 4 years ago, I think my work has progressed a fair bit during this time. When I say 'progressed' I mainly mean what I am seeing and taking notice of, my decisions on what and how to shoot and my editing and selection of what I finally put out into the world. When I now look back at work I did before, I end up throwing a lot of it out (which effectively means removing it from my website) and now my website is mostly made up of images shot in the last few years. I can't quite believe how much of it was shot this year, but there's a lot, it's been quite a year.
The year started off with a resolution to get to grips with off camera flash , having acquired a Quantum Q Flash from my friend the photojournalist Edmond Terakopian. I had a few opportunities to do that but having just returned from the sunny island of Fuerteventura, I have fallen in love with available light all over again! I'm glad to say it's been a tough choice selecting only 10 shots, such has been my good fortune over this very productive year.
My first favourite image was a portrait commission for the actress Karina Fernandez shot in March with the Olympus EM1 and the PL 25mm 1.4 lens. Karina had just finished filming 'Pride' and 'Mr Turner' her 3rd appearance in a Mike Leigh film. She saw some pictures on Facebook I had taken of another actress and came through to Winchester for the shoot. We rambled around some of my favourite natural light haunts and ended up shooting this one in The Black Boy pub (most of my favourite shooting locations are pubs!)
My next shot was made later that month when I had seen a documentary about Helmut Newton on TV. I had been approached by the model Amanda Swan several months before and she was perfect for this shoot. We shot the picture in a large suite at the top floor of the Grand Hotel in Brighton, a slight extravagance but it ended up being worth the extra cost. Extremely bright daylight flooding in through the balcony was supplemented (only just) with about every continuous light I own resulting in an image which owed as much to Hopper as it did to Newton, but I liked it anyway. It was made again with the Olympus EM1 but this time with the wider Olympus 17mm lens
The next image was taken in May when I spent a week in the village of Vejer de la Frontera on Andalusia's coast of light. I had gone to shoot the Feria celebrations held on the outskirts of Vejer, but I found there were many less obvious photo opportunities back in the town which during the day was quite desolate. I shot this scene without people initially, impressed by the strong geometry and contrasts. Then I did something I rarely do, which was to wait around for a human element to enter the shot. I only needed to wait about 10 minutes and this couple walked up the steps, perfect! The shot was commended in the Travel Photographer of the Year competition and will feature in their book and annual exhibition this summer at the Royal Geographical Society in London.
This next image was definitely out of my comfort zone, but one of those happy accidents that we need to take advantage of as photographers. I had booked a quick weekend on another Canary Island, Gran Canaria, where last year I had enjoyed shooting the amazing sand dunes of Maspalomas beach. I had booked the trip in a bit of a hurry and was slightly surprised to discover that my hotel was quite possibly the gayest hotel on the island, featuring a 60 foot photographic montage in the parking area displaying numerous musclebound men in tight thongs enjoying the pool and sauna areas. Additionally, I had apparently landed at the start of Gay Pride weekend and my hotel was in fact the epicentre of its launch. This chap, a hairdresser from London, had a swagger and confidence which I just had to capture and he was very gracious in posing for this shot. I have entered it for a few competitions which have yet to be judged, so we'll see how it does in the months to come. It was shot with The Olympus OMD EM1 and the 12-40mm 2.8 lens + polariser and although the subject was a man, I think I still had Helmut Newton's work in mind when I shot this.
This next picture was made in June at the workshop I ran with Steve Gosling in Venice. It features the model and TV presenter Chiara Sgarbossa who was posing on one of the many bridges which lead off from St Mark's square, under which pass the gondolas. The gondaliers below were making a real fuss of her trying to get her attention and after several "Mama Mia"'s and whistles, one even started to serenade her. Her expression says it all really. Taken with the Olympus OMD EM1 and the Leica DG25mm 1.4 lens + ND4 filter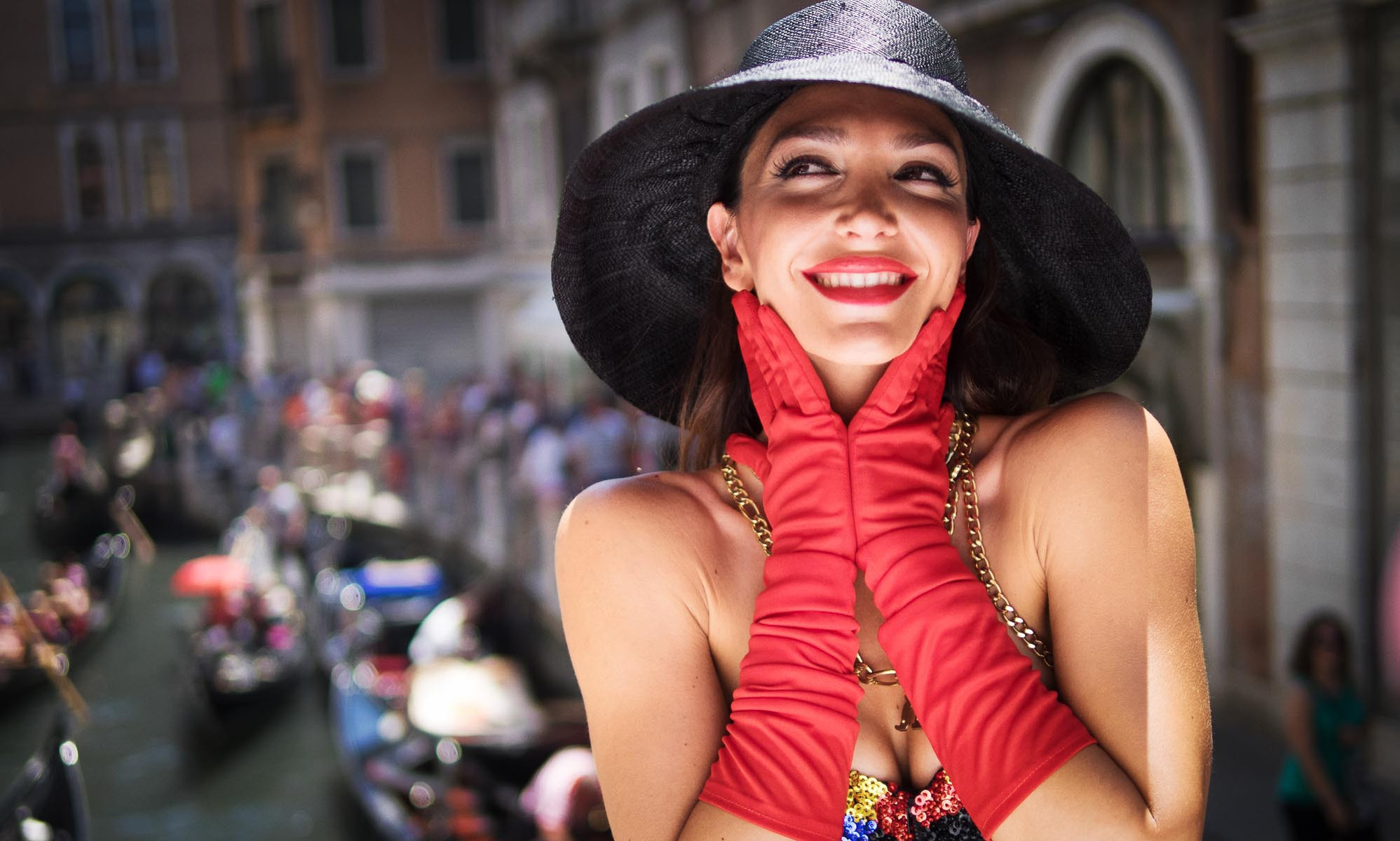 This next picture was made during a trip I made to Italy by car with my friend and keen photographer Karl Eldridge in August. We hired a large-ish villa on the edge of Lake Como in the village of Laglio, which was all of a buzz because George Clooney, who has a villa there, was in town making the new Nespresso advert (the one with the French guy). I had arranged for a number of models to visit us and Donutella was the first. I shared some sessions with Karl and also did my own work independently. I shot this in the window of the villa with the Sony A7s and the Leica 50mm Summilux ASPH lens
This next picture features Thorn who is the partner of Chiara, the Venice model featured earlier. They came over from Venice to stay in the villa for a few nights and we made this picture when we went down for cocktails to the grand Como hotel Villa D'Este. I knew this place would offer some great shooting opportunities but I hadn't expected to find this shot in the games room. Thorn is a film maker and musician and he also puts on big concerts in Venice. He is one of the snappiest dressers I have ever met, an Italian version of our British vintage dandy, and a fine chap! The picture was made with the Sony A7s and the Leica 50mm Summilux ASPH lens
This picture was taken during the same week on the edge of the lake, it was lit with the aforementioned Quantum Q flash put through an 18" softbox at dusk. The model was Jessica and the image was made by combining the original colour image with a contrasty black and white conversion and adjusting the layers and opacity until I was happy. The picture was shot with the Olympus OMD EM1 and the Olympus 12-40mm 2.8 Pro lens
This image was made during the Subiu fashion festival I attended in September. Sibiu is in Transylvania and this fashion show was held in the grounds of an 18th century palace. I was granted access to shoot backstage which resulted in lots of interesting and intimate shots. I love the way this model is ignoring me so convincingly and the ghostly apparition in the background, an effect rendered by this unique optic. It was made with the Sony A7s and the Leica 50mm Summilux ASPH lens
This last shot was made at an Olympus sponsored event held in December which I managed to squeeze into just for its rarity value. It was a part-dress rehearsal of the English National Opera's production of the Nutcracker in London. It was made with the Olympus OMD EM1 and the Olympus 75mm 1.8 lens. The processing style I used is heavily influenced by the remarkable wet-printing and digital processing techniques of the 50's fashion photographer Lillian Bassman, who's work I came across at the Kunst Haus gallery whilst in Vienna the same month. Having since acquired her stunning book "Women" I am completely smitten with her unique style and long to now work with long necks and couture hats!
There have of course been many other high points for me this year including the setting up of my first Limited Edition photographic tour with Kuoni which kicks off this November with a 12 day tour of India. I also really enjoyed being interviewed for Michael Rammel's Ready Steady Pro podcast in the summer and have had a number of features published in the photo press. But the best thing about this year has been making lots of new friends related to photography and otherwise, fortunately there's usually a camera there to capture the moment!